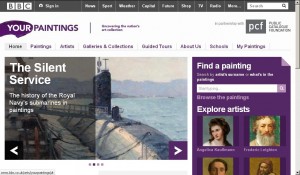 The Public Catalogue Foundation (PCF) has been digitalizing for years oil paintings that belong to different public collections across United Kingdom. The main aim is that the public can, at last, have access to these public owned paintings that unfortunately, for varied reasons, are not exposed and may not be seen in person.
The digitalization ended on 2012, with more than 210.000 oil paintings belonging to more than 3.000 collections. We are talking about a huge amount of data, paintings from thousands of artists that include a wide range of styles, themes, moments in time.  To put this cultural heritage at the public's disposal is a major contribution to the promotion of arts, culture and history, no doubt about it. But they didn't stop there, and developed a creative project that carries this huge legacy far beyond.
Who would be the perfect partner if you want to develop a project that allows the newly digitalized public oil paintings collection to reach as much public as possible? The BBC sound like the perfect candidate. They use to take part in different art projects that match their strategic policies, in order to share expertise and strengthen their audience engagement.
On June 2011 the PCF and the BBC launched "Your Paintings". This web-based project makes all the digitalized oil paintings available to the public in stages, not in a one-direction, expositive way, but asking the visitors for their help. Moreover, the project only works if the visitors participate, taking very seriously the web 2.0 principles. For each painting, the public is asked to tag as much words or concepts they can relate to the painting. Some paintings are well documented, but for thousands of others the available information is limited. In this way, the big database grows in dimensions and in valuable information, which enriches the paintings themselves. And for the website visitors, the entries that can lead you to specific paintings grow, giving even more visibility to paintings that until recently were at the disposal of a lucky few. You want to see paintings of a small mining town in Wales and check how it evolved? Or you are interested in English old paintings that included technological developments in their time such as the first printing presses or specs?
The best taggers are rated in a chart, new taggers are also mentioned, and some people are taking it really seriously. I totally understand, for me it was entertaining from the first moment to visit the website… and I searched paintings for hours. I can't imagine how valuable this project may be for artists or for Art History research! But most of all: this project helps normal people with different degrees of interest in art to live art, to think that art is also for them and not only for artists or collectors. It makes them believe that their opinions and thoughts are also valuable; it helps them to trust their likes and perceptions.
The Public Catalogue Foundation and BBC. http://www.bbc.co.uk/arts/yourpaintings