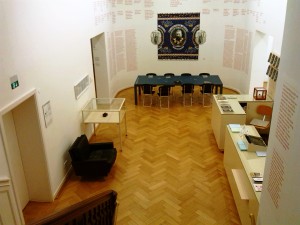 At first, I wanted to write something about the current exhibition on this museum, "Foreign exchange (or histories you wouldn't tell a stranger)", but the more I think of this museum, the exhibition and their proposal, the more I want to write about they as a "post-ethnographic" project (as they call themselves).
I was very curious about this museum, most of all because I am very curious about a project in Barcelona, the future "Museum of the cultures of the world", which I knew at its beginning and I consider it too ambitious… and have my doubts about it. When deciding to visit the Weltkulturen Museum, I expected something like an ethnographic museum with a politically correct name. I was far from what it really is, and I had quite a surprise.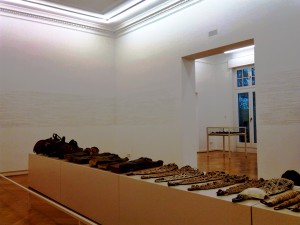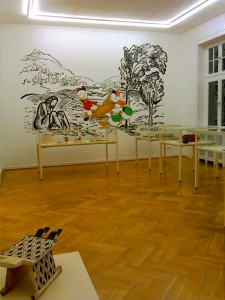 I got immediately impressed by the strong educational orientation. It was instantly clear through the museography and display elements, the special hall, the public and their attitude, the 3-caring young ladies' team for only 11 children, the availability of books and material for deepening on the exhibition, and the kindness of the attendants and staff.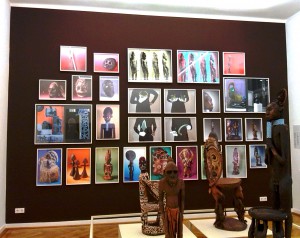 This museum gets to be a real example of a participative museum. They left far behind the old concept of being a place for exhibitions, a one-direction relation with the public. They understand themselves as a meeting point opened to whoever may contribute to explore new points of view around ethnography and foreign cultures, their present and past. What they offer is both their collections of thousands of pieces (ancient and new), photographs, videos, books and archives, as well as their space, which are the museum halls, library and the Laboratory. To whom do they offer all that? To students, children, philosophers, ethnographers, all sorts of artists, anthropologists, scientists, and writers… everybody is welcome to participate and to explore a specific piece or theme, the offer is huge. They have a rich program that doesn't limit the approaches of whoever wants to make their study or reflections.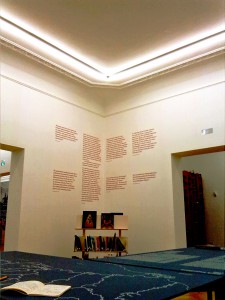 They base this interaction with the world on their "Weltkulturen Open Lab". This is a program that consists of, and I paste it directly from their website:  "the Weltkulturen Museum opens its museum stores and with this, the knowledge surrounding its ethnographic objects for the public domain – without restrictions implied by specialist fields or national borders. No matter if you are a school or university student, artist, anthropologist, filmmaker, sound artist, scientist or writer: Here, you can dive into a digital expedition and get inspired from the collection objects for your own scientific explorations and new productions. Follow the development of ongoing projects or add your own comments, sketches, images, texts, audio files and your own creations…"
It sounds great when read, but difficult to make come true and very ambitious. The good news is that they meet this statement with success. I saw it with my own eyes, reflected on the current exhibition.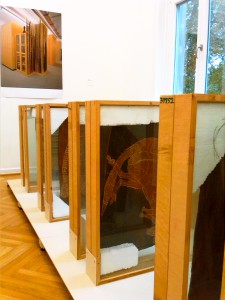 The exhibition idea started with a big question: what was the relationship between this museum and the commercial banks on the other side of the river? At the opening in 1904, the museum's director, in the search of funds and pieces to widen the collection, convinced some bankers that ethnographic studies and learning about other cultures would provide German traders with the knowledge necessary for successful foreign exchange.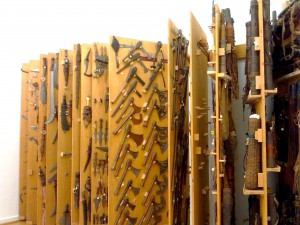 To answer this first question, artists from all over the world, as well as other specialists, were invited to dialogue, to participate on workshops and to experiment on the museum's laboratory. This experience lead to another question: were ethnographic pieces objectified and photographed in a similar way to people? Because, when apart from their original background, each piece or picture took another, completely different life in the museum, and is not certain until which extent they reflect what they are meant to, or who they actually were. Here I have to mention the exhibition of some weapons and other pieces on their original storage systems, a wonderful idea on this context.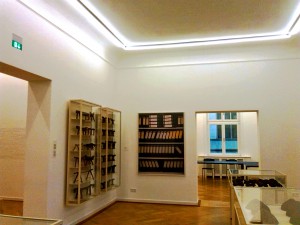 More and more reflection, discussions, research, experimentation and creations gave shape to the current exhibition, and the visitor is able to see the process, to understand the approach of each of the artists and participants. As the Director and co-Curator, Dr. Clémentine Deliss says, "To work with the ethnographic collection in this manner is to curate new cultural and disciplinary neighborhoods. It's about rethinking the possibility of research in a museum that is conceived as a formative and experimental model of production"
Weltkulturen Museum, Schaumainkai 29-37, 60594 Frankfurt http://www.weltkulturenmuseum.de/en