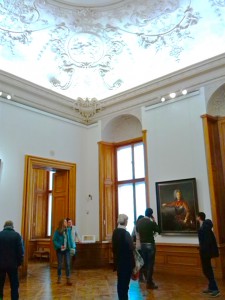 When you go to Vienna, you have to visit the Belvedere. Every tourist guide says so; every person you ask for recommendations recommends it… you should go. You may see there Klimt's Kiss and only that makes the visit to Belvedere worth it. You may also see a few of some other remarkable works by Klimt and Schiele, and visit the palace, which is beautiful and has wide, great gardens. But that's it. It is not the most impressive palace, nor has a big art collection. It also lacks of a museographic intention.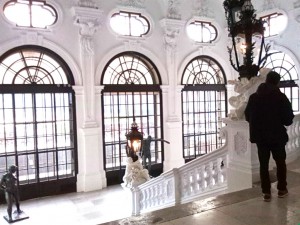 The visitor may think that the staff found themselves one day with a big palace, some paintings, drawings and sculptures (some of them very valuable) and that had almost no connection between each other or the building, except for their origin: Austrian. So they said: "OK, let's open an exhibition. And let's give a little bit of information about the palace and some of its rooms, in case someone is interested. How do we distribute the art pieces? It doesn't matter, visitors are tourists and the can see the Kiss, they don't need more".  But they do, I did.
The works of art belong to different periods and styles. There are one or more rooms for each style, with a brief explanation in some of them, and no explanation at all in others. There is no logical tour and you may find some hard to believe mixtures of pieces. The illumination is bad and is frequently reflected on the paintings, and the visitors are moving from one side to the other to make themselves a total idea of the big paintings.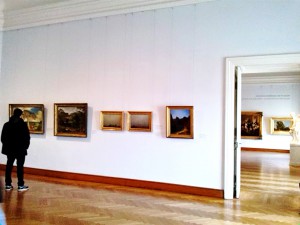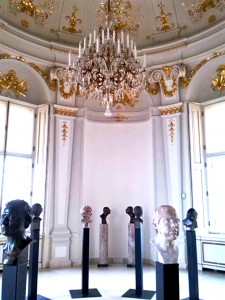 You may find a small text with in some rooms, together with an old illustration of the same room, explaining its use when someone lived there. Though interesting, you fail to make yourself a good idea of the palace and life there (in contrast with, for example, Schönbrunn Palace also in Vienna).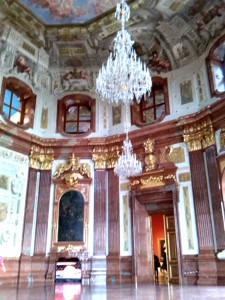 There are two things I really enjoyed, besides the famous masterpieces: a video named "Venus im Pelz" of the artist Peter Weibel, who was exposed on the Lower Belvedere. Great art work! And, after the visit, it was very nice to rest and drink something at the café… I mean, I was resting and drinking a good Viennese coffee at a palace!
Prinz Eugen-Straße 27, 1030 Vienna http://www.belvedere.at/en/schloss-und-museum/oberes-belvedere