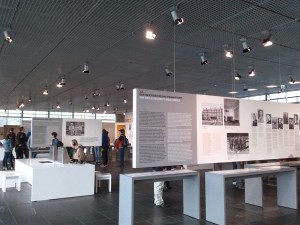 The Topography of Terror Foundation was founded by the state of Berlin and the Federal Republic of Germany after an exhibition on 1987 celebrating Berlin's 750th anniversary. As a political institution, the aim was to build a documentation center to be established in an important part of the city, which may also organize local and traveling exhibitions.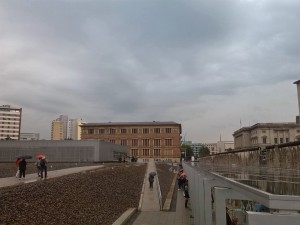 The space where you can visit the Topography of Terror is exactly the place where three Nazi institutions' buildings were situated between 1933 and 1945. They were the Gestapo headquarters (Secret State Police including its own prison), the SS Headquarters and the Reich Security Main Office. The land was cleared of the remains of the destroyed buildings and, on May 2010, the new space was opened there.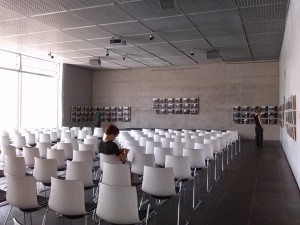 It is a building designed and built to be a documentation center with an exhibition hall, big library, cafeteria and auditorium, and is perfect for these purposes. It holds a permanent exhibition indoors and temporary exhibitions in the open air. The halls are comfortable, with excellent lightning and all the modern museographical tools. Everything is presented in German and English.
The permanent exhibition offers the history of the Nazi period based on lots of different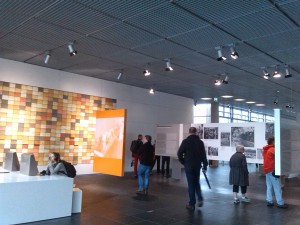 elements and documents: photographs, quotes, press clippings, original documents, maps, organization and flow charts, detailed texts explaining every section and films (with headphones, in English and German; after a while they turned off automatically).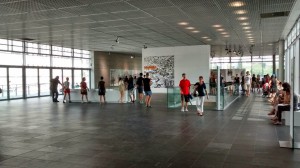 The main purpose of the foundation is to "offer historical information about National Socialism and its crimes and to encourage people to actively confront this history and its aftermath since 1945". My personal impression is quite different: I see it as an answer to the explosive touristic growth of the city. This space provides an easy way to be informed, in just a couple of hours, with the best possible summary of the Nazi period. It reminded me of a special edition of a history magazine for the masses: here you have all you may need in order to go back home saying "yes, I was in Berlin and learned about the fucking Nazis, and can tell my friends some despicable anecdotes". Tourists visiting Berlin for two days can go to just one place, instead of walking hours from here to there, something very comfortable.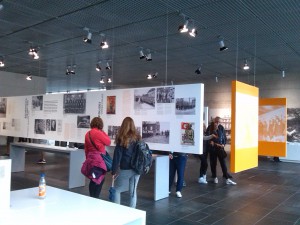 If you have visited different historical sites, have read, have had an active interest towards this theme, then you can spend your time somewhere else. You'll get nothing new from the permanent exhibition. Unfortunately I could not see any of the conferences nor took part on the different activities they offer. The variety seems wide, as well as the publications of the Foundation and the library's collection. Maybe, when participating, these side activities and documents would have improved my total impression.
I have to say that the temporary exhibition about the Warsaw uprising is quite interesting.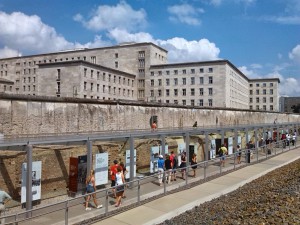 Again, it gave me no new information, but I guess it is due to my personal interest on this theme and my trips to Warsaw. As far as I could see, it is well built, has good texts and images, all again in English and German. Alike inside, it is like walking through a special edition of a magazine about history.
The entrance is free. There are guided tours available.
Stiftung Topographie des Terrors, Niederkirchnerstraße 8, 10963 Berlin