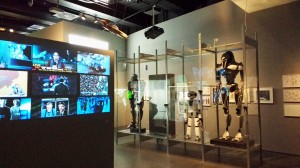 While working on a project in Berlin some weeks ago, I had a couple of free hours and decided to visit a museum. Regarding the limited time available, it should be a small one. The perfect choice seemed to be the Museum für Film und Fernsehen, that shows now a temporary exhibition about Science Fiction. Unfortunately, I made a bad choice… it is so interesting I would have stayed for hours!
The Deutsche Kinemathek – the German Film Archive – holds a museum on its building with permanent and temporary exhibitions. In total, 4 floors of exhibitions plus a floor with the ticket office, a library and a shop. It is quite big; the exhibitions are visually fantastic and is worth a visit with enough time to see, hear and watch everything.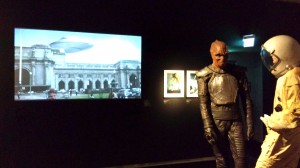 The permanent exhibition is a tour through TV and film history, using both to communicate facts about culture, society and even political events through time, mainly in Germany. It does not pretend to be exhaustive, but is, nevertheless, very instructive and stimulating.
The temporary exhibition Things to come. Science fiction film, is a must for all science fiction movies' lovers. Dividing the show into themes/common elements, it pretends to expose the former and current solutions given by directors to the question What is to come?, as well as the different ideas around themes like spaceships, cities and open air spaces in the future, new discoveries, new live forms, society of the future and even common life and interaction of humans in outer space, among others.
The visitor may see scale models, drawings, sketches, photographs, costumes and videos specially made for the exhibition, very well done and containing film cuts that transport the observer to the streets of the future, the cities in other worlds or inside spaceships. The visual and listening elements are outstanding.
Until April 23rd 2017.
Deutsche Kinemathek – Museum für Film und Fernsehen. Potsdamer Straße 2, 10785 Berlin
https://www.deutsche-kinemathek.de/ausstellungen/rueckblick/2016/things-to-come