Just a couple of weeks before its closing, I had time -at last- to visit this exhibition around Pompeii. My expectations were high, as I use to like very much the exhibitions in the Bucerius Kunst Forum. I couldn't imagine how disappointed I'd get.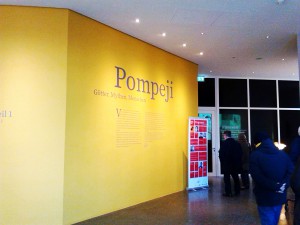 It is not easy to explain why I am so disappointed, as there are many reasons, all good ones, and we are talking about a top theme here. Everything about Pompeii is surely a success, there should be no risk and you may easily organize something interesting to almost everybody. In fact, such a theme is a dream for someone organizing exhibitions: your public will be wider and everybody will have a positive attitude towards the contents you may show. The name itself is like a magnet attracting public. There is so much material, studies, theories, books, photos, etc. that probably the most difficult task is to decide where to stop adding contents. Nevertheless, the Bucerius Kunst Forum's team managed to present the most confusing and content lacking exhibition possible. If someone wanted to learn something about Pompeii, probably may end, after visiting this exhibition, with a wrong and poor idea about this magnificent ancient city.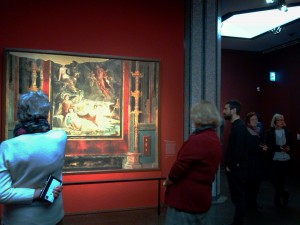 The exhibition is divided in two areas. After a text introducing to the exhibition, the first area presents wonderful frescos separated in 4 periods, which are not enough explained. After seeing all of them, you may, though, deduce the different influences over them and their stylistic characteristics. The texts besides every piece are a good explanation of what is shown. If you are lucky enough to understand German, you may appreciate this valuable help to understand the frescos, as no one is written in English (as it is unfortunately normal in Hamburg).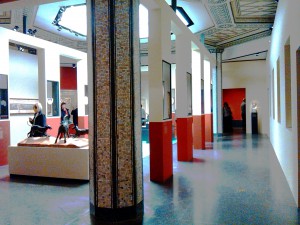 The second area is based on a big villa in Pompeii, the Villa del Citarista, which belonged to a rich family. You visit it after watching a shot video of a model of how the building should have once been (the empty building, you cannot imagine life inside there). Some of the halls and rooms are tried to be reconstructed, some not, some in different proportions according to the space available, with the aim of showing the frescos, sculptures, busts and statuettes in their "original" space. The result: you could not imagine the villa nor understand why the objects inside it were made as they are. They belonged to different periods (the villa was enlarged through the years) and were all mixed together, what makes no sense if you pretend to recreate a villa. Besides, the walls were painted in a dark colour that makes you feel more in an old country house in northern Germany than in a bright south Italian villa.
And that's it. No information about the city of Pompeii, about how other less wealthy families furnished their houses, in case they did, about normal life in such a villa and the use of the different spaces, about the role that all this aesthetic expressions had on the society and the people… about the artists and craftsmen that made them, about art in the roman era, about nothing. In fact, the precious, extremely valuable pieces shown fail to impact, despite their beauty and uniqueness.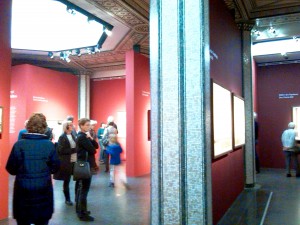 In short: the exhibitions fail to reach any of its possible goals, whatever they are… if any.
I have been in Pompeii twice, and I can confirm it is magnificent. It is overwhelming, it leaves you speechless. And this exhibition has nothing to do with it… it seems to be about other people, in some other place.
I have only four pictures as I was not allowed to take any more. I received a strong, loud shout from the opposite side of the hall (which upset everybody and I felt like a criminal after everybody stared at me!). As an advice, it would be easier to have a sign informing that taking pictures is not allowed, instead of such loud calls of attention.
Bucerius Kunst Forum, Rathausmarkt 2, 20095 Hamburg
http://www.buceriuskunstforum.de/en/exhibition/current-exhibition/