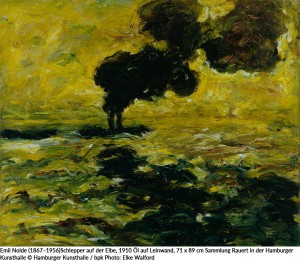 The exhibition Nolde in Hamburg was opened last week in the Hamburger Kunsthalle. More than just an exhibition, this is also an opportunity for Nolde fans to learn more about the man and the artist, as well as for Hamburg lovers to observe the city in another times through the eyes of a man with an exceptional sensitivity.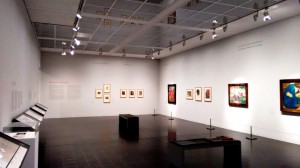 The exhibition offers a new approach to Nolde, offering the visitor almost 200 artworks from paintings to watercolours, ink drawings, etchings and woodcuts. This means that most of them are not the colourful paintings one can expect of a Nolde –or other expressionist artists- exhibition. In this way, this is a rare opportunity to study thoroughly the less known works of this artist. Nevertheless, that is the only way to show the visitor the artist's relation with a city he loved, how he saw it, why and what he loved of it.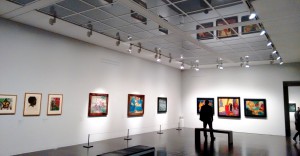 The aim of the Kunsthalle's staff is to understand the relation between a city and an artist, to understand a complex city though an artist's point of view and his modern conception of art, using Nolde and Hamburg as an example. His name is quite obvious, as he also had a close relation to the Kunsthalle when alive. The idea is fantastic, but the results go beyond that, they are just excellent.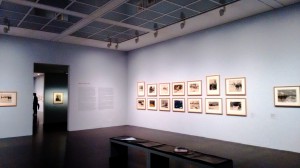 For me, as may happen to other people that have fallen in love with Hamburg, this exhibition can give, moreover, an added joy. I saw Nolde drawing exactly what I am constantly photographing in this city. The emotions Hamburg makes me feel are arouse by some of the same peculiarities Nolde valued in an extent that moved him to paint them. For a Hamburg lover, visiting this exhibition is also a way of paying tribute to what makes it special among all the cities in the world.
Hamburger Kunsthalle, Glockengießerwall, 20095 Hamburg http://www.hamburger-kunsthalle.de/en/exhibitions/nolde-hamburg