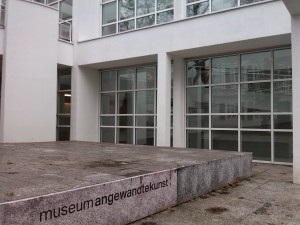 I've wanting to visit this museum since January 2012, when I saw a conference about Dieter Rams and the Ulm School  held by Dr. Klaus Klemp, then in charge of exhibitions. The theme and the conference were so interesting for me, that I thought this museum would be fascinating. Unfortunately, these expectations lead me to a major disappointment when I finally visited it some days ago.
To start, the major part of the population doesn't have a clear idea of what applied arts mean.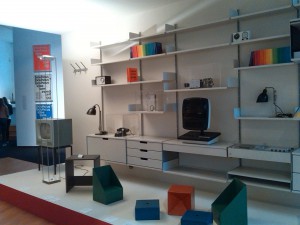 Therefore, the may expect to understand it after visiting a museum of applied arts, and they probably don't know what they may find in such an exhibition. I do have an idea, as I am personally interested, I love industrial design and I have visited lots of museums and exhibitions around this theme. Nevertheless, I ended completely confused and bored.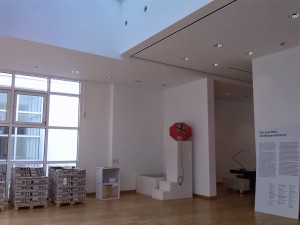 The museum was reopened on 2013, with a new concept. As they say on their website: "… the Museum Angewandte Kunst is now conceived as a space of possibility, a realm of sensory thought and experience, a platform for research, dialogue and negotiation, conversation, cooperation and participation. The concern here is with perspectives and strategies related to the variant forms of design embedded in what we refer to as our societal context, our lives."
I think it is perfect to rethink a museum, and to go beyond the traditional usages. I usually support these brave actions! Unfortunately, they went too far here. They miss a link between public and specialists, and are focused only to artists, designers and architects.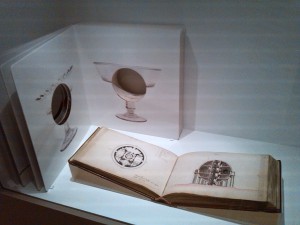 A normal person, as I am, may end feeling that this is not a place to visit again, may think "it's not for me". Maybe that's what the staff is looking for, to discourage the ones that don't belong to their specific target, but it seems to me a little crazy. It cannot be a coincidence that I was the only visitor the couple of hours I stayed there.
The museum is composed of a modern building, with white walls and a lot of natural light, and an old villa.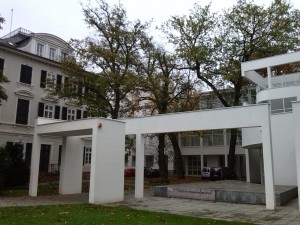 The villa's rooms recreate historical furnished rooms, either German or from other European countries. Each room is supported by a private company, what is a very good idea that I'd love to see more often. There is no information on the rooms, so before leaving the villa I asked the attendant for some information. Only after asking she said there are audio guides on German and English available, although I talked to her just after entering the villa, because I wanted to know when it was built.  Too bad: no signs advising that you can only be informed through audio guides, and attendants not trained to offer them.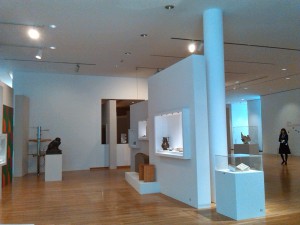 On the new building you may find the so called "Museological Chamber", which again has no exhibit labels. As I already had the bad experience of the villa, I went directly to the attendant and she gave me a booklet with the information of the pieces in German (and only German). This room has various pieces of all epochs, materials and places, all mixed together. Although I tried to figure out what the tour reasoning would be, what was the common point between them, I couldn't find out.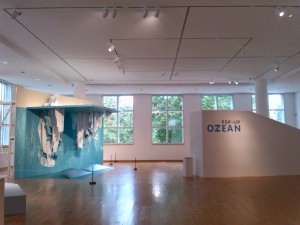 Another huge hall was dedicated children storybooks. This space was interesting, although it made me think of some book editor that has very good contacts. Because, a whole room for just one book that was published last year? I could understand it for a classic, but for a normal –though beautiful-book?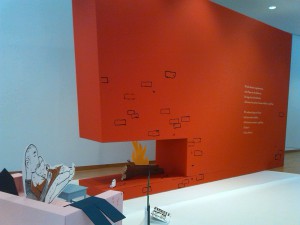 The museum's library consisted on two large tables with books over it and a sofa in front of them, in calculated order and very appealing. I picked up one, but the attendant came to me in a hurry, asking me to wear gloves. I tried to browse through the book with the rubber gloves, but I couldn't. It lost a big part of what made it interesting: the editors think on the textures, which paper, which cover, and I couldn't feel them. And it is really difficult to turn the pages with such gloves!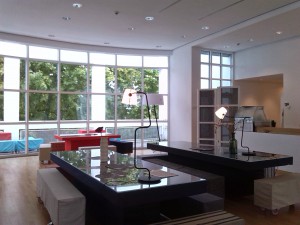 The museum's café was the only part I really liked: they use it to show how applied arts can be applied. It is a space that has a temporary design (including ornaments and furniture) that is an exhibition by itself –with explanations in German and English, finally!
Museum Angewandte Kunst, Schaumainkai 17, 60594 Frankfurt http://www.museumangewandtekunst.de/en