Last July I was invited by a friend to stay in a small Danish town. Before my trip, he told me that we may visit the Louisiana Museum of Modern Art, what gave me time to see its website (very complete and appealing)… after what I really wanted to see it in person.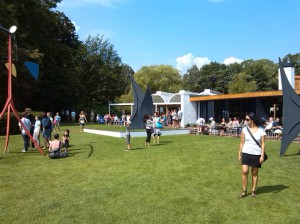 As we arrived, the cue was huge. You can buy the tickets in advance on the website, but a lot of people didn't, including us, and have to wait for a short while, as the ticket office worked, fortunately, fast. The public was composed either of Danish and tourists, and it is a big tourist attraction in the country. In attention to that, you can pay in Danish krones or euros.
At the museum I couldn't see general information about its collection or the museum itself, and from the beginning I felt lucky that I had previously read it on the website. Without that information I would have been a little confused… when you enter, you can see a small part of the permanent exhibition before getting to the temporary exhibition, and afterwards, you can see the rest. The permanent exhibition is composed of very different pieces of art, from various artists, in all formats: paintings, sculptures, drawings, photos, etc. In some halls they are exposed by themes, in others by artists. Nevertheless, the permanent exhibition does not intend to be the museum's strength.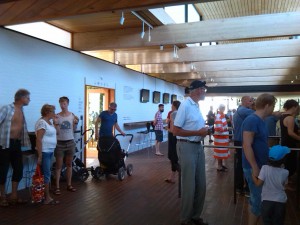 Louisiana opened its doors in 1958. Since then, it has been growing in fame and size. Built in a big land by the sea, it has beautiful views and big gardens, full with trees and sculptures. Every detail on the outside is carefully thought, and you can easily stay there for hours just resting, enjoying the nature, watching the sculptures or the sea… even Sweden across it! It offers whole-day fun: visit the museum, have lunch and spend a nice afternoon there as if you were on the prettiest park. The restaurant has a delicious offer, either if you want to take something fast or eat a complete meal. There are views from the big terrace and from the inside, where you can also watch TVs all around showing some videos specially made by the museum and that are also available on the internet, with interviews and images of past exhibitions.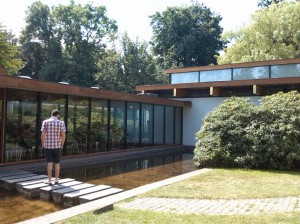 The museum was built and conceived, from the beginning, as an exhibition space based on the old villa that should be completely merged with the natural surroundings. There are lots of windows, glass walls and natural light, and you can always see the gardens and the sky, which creates a very special atmosphere. Of course these windows let profit the natural daylight and help to enjoy the exhibition… I would like to see how the artificial illumination is when it is dark outside. I hope the result is as good as I can imagine based on the care on details that I saw in this institution.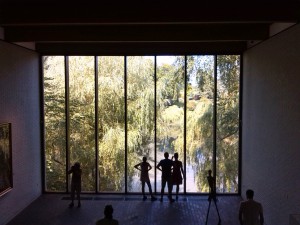 The building accomplishes its purposes and the results are, in general, good, although it has nothing to do with the general museum constructions. Some halls are like the normal modern museum's halls, but others don't, and remind you more of a beautiful living room where you'd like to sit and read a good book for hours. Every hall is spacious and you can enjoy the exhibition no matter how much people are around. As said before, the atmosphere is quite special here, and the experience is thought to be much more than just visiting an art exhibition.
The facilities include a fantastic concert hall where a wide range of side activities take place throughout the year, including debates, lectures, chamber music concerts, etc.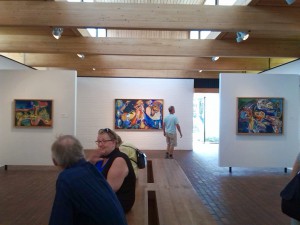 The shop-library has two floors and you may find there all the catalogues, books and magazines that the Museum publishes, among design objects and classical museum's souvenirs. The "Children's wing" deserves a visit, even when you don't go with kids. It is a big space with lots of small tables and materials. It is the dream of the education department of any museum. I would like to participate on a workshop myself!
Before saying anything about the temporary exhibitions, I have to mention my impressions of the Niels Wessel Bagge collection. It is a part of the permanent exhibition that is kept on a special hall, totally exposed to the sun and the high temperatures that, though unusual, sometimes happen (I suffered them). The Niels Wessel Bagge Art Foundation donated to the Louisiana Museum 450 Pre-Columbian art pieces. Why? I have no idea, but antic pieces in a modern art museum sound a little strange. Some remarkable pieces of the collection are displayed to the public, not showed as art pieces nor as ethnographic ones, just shown without specific care on window showcases. Altogether without differentiation of the cultures they belong to, or their epoch. At least they are presented from north to south! Unfortunately, there are only brief exhibit labels on one side of the hall, and a small text about the Niels Wessel Bagge collection at the other, what is obviously insufficient.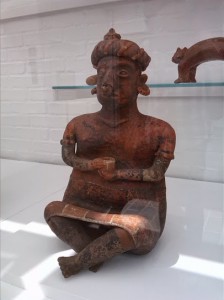 I saw no intention of associating this part of the museum with the rest, no attempt of linking it to modern art. It can be done simply and without too much creativity. A panel explaining in a brief way which cultures are, with dates and regions, or maybe an informative map, and another panel explaining, in general, how some modern artists have been influenced by the so called "primitive art" can be enough. It seems to me that there is a lack of interest of the staff on this collection, and it gives the idea that they received it… without knowing what to do with it. I am worried about the huge amount of sunlight and no temperature and moisture control system, in order to keep safe old polychrome ceramic pieces.
The picture in this article is a Nayarit piece, whose art I personally love long ago.
The core of the museum is based on the temporary exhibitions. Insofar as the permanent exhibition includes only a few extraordinary pieces, the temporary exhibitions are conceived to be top-level and thus situate the Museum among the important ones, as well as to attract visitors. These temporary exhibitions offer a wide range of themes: from one or more artists' retrospectives to thematic exhibitions, there are always two at a time and each of them changes twice or three times along the year. These exhibitions are the museum's strongest appeal, the big strength that has the purpose to encourage the visitors to repeat at least once a year.  An effective though expensive fidelity tool. I guess you can always find there perfect new exhibitions, based on what I saw: Emil Nolde and Philip Guston. Perfect museography, perfect layout, excellent informative elements.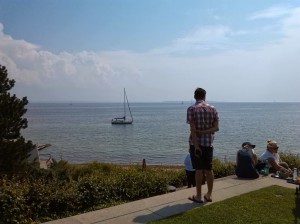 There are audioguides available in different languages for the temporary exhibitions, information and exhibit labels en Danish and English, and it is allowed to take pictures.
Louisiana Museum of Modern Art, gl. Strandvej 13, Humlebæk, Denmark