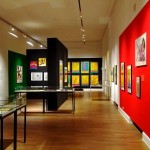 Although focused on Haring's posters, the exhibition includes photographs, merchandising and a film. With an admirable combination of these elements, the exhibition shows Haring's work but also gives light into a generous, creative young man, full of energy and gifted with the extraordinary capability of communicating through image and colour.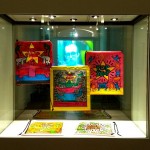 I loved the exhibition and enjoyed every part of it, beyond the prints and posters. What I liked the most is the inevitable glimpse to a sensitive man that felt joy and pain, that doubted, that was loved and criticised, that kept humble and couldn't stop creating, whether it was for a commercial campaign or as a way of expressing himself. It is an uncommon courage seen between artists, daring to accept that it doesn't matter whether they are making art or are part of an industry. This dilemma was irrelevant for him and he didn't mind being or not accepted in artistic circles, because being close to the people was what he cared about. And he WAS an artist, from top to toe, every minute of his life, no matter what.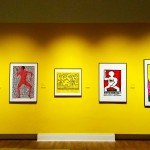 It is admirable how, when he wanted or was asked to give a message, he created his artworks using his own techniques and language, achieving to give that message to as much people as possible… in such a simple way, independent of who the receptor would be. Everyone could understand. In this way his activism, especially against AIDS, is praiseworthy, as his "voice" through drawings could reach really far.
I truly recommend this inspiring exhibition at the Museum für Kunst und Gewerbe in Hamburg, that through posters encourages the visitor to think and discover the intimacy of a man. No wonder, the works belong to an artist that was, first of all, a communicator through art.
Museum für Kunst und Gewerbe Hamburg, Steintorplatz, 20099 Hamburg http://www.mkg-hamburg.de/en/home.html