Japanese pop culture since 1680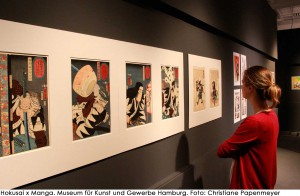 This exhibition is the result of two years of investigation, exhibits' compilation and planning. Its purpose is to establish a relation between the earlier Japanese popular culture (since 1680) and the present one, based on the evolution of the manga (Japanese word for comic). The curators and staff reach their goal, they do establish the relation between popular culture through the centuries, but manage to go beyond: the content of the exhibition enlightens about a society, its conducts and values, and is not merely restricted to manga, comics, techniques and the evolution of their format.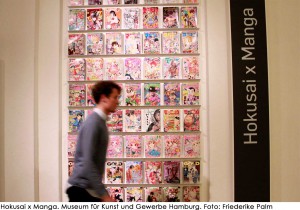 What we now call comics are not a modern creation. They were already printed centuries ago in Japan using wood engravings and were sold to the masses both as booklets or single images, and so, they were considered commercial products from the beginning (their modern value as art pieces came afterwards). They showed heroes, legends, demons, spirits, sexual activities… they gave the masses access to stories of unreal worlds that drove them away from their daily life, always entertaining the public in some way. Through the centuries, these products have changed together with the Japanese society, and thus a review over the comic history in Japan is a sort of review over its popular culture.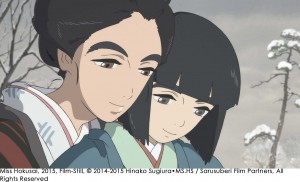 It is a pleasure to visit this exhibition! You may stay for hours reading the panels and observing the details of the illustrations exposed. After two disappointing experiences at the Museum für Kunst und Gewerbe, I am totally reconciled and satisfied with this museum thanks to the job made in Hokusai x Manga.
Museum für Kunst und Gewerbe Hamburg, Steintorplatz, 20099 Hamburg http://hokusaixmanga.mkg-hamburg.de/