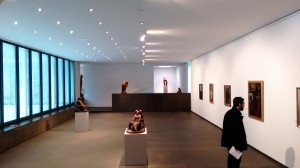 The Ernst Barlach Haus is a modern building meant to hold Hermann F. Reemtsma's collection of Barlach's expressionist sculptures. It was constructed in 1962 at Jenischpark, a vast and lovely park on west Hamburg that has direct views over the port. In this park you may also find the Jenisch Haus, a classicist house that belongs to the Altonaer Museum and was built in the 1830s.
The house, by the architect Werner Kallmorgen, is exactly what a curator would love to have as a space for exhibitions: a unique space that manages, simultaneously, to have separated spacious rooms, all counting with natural light and large walls – despite the enormous windows. There is a roofed courtyard at the centre, which is visible from almost all the rooms.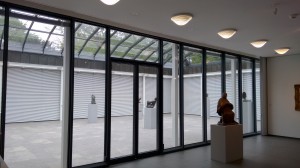 The result is that you feel completely surrounded by sculptures, although you may stare at each of them as if there was nothing else around. Clean spaces, clean light, clean colours, all surrounded by the green park outside on summer – or the white one in winter.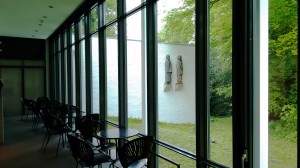 Even if the visitor is not familiarised with Ernst Barlach, visiting this museum and the park is highly recommended as a complete day trip. After a walk through the park, you get inside this wonderful space and become absorbed by the art pieces.
There is a self-service café, but there is also a small restaurant at Jenisch Haus, only a few steps away.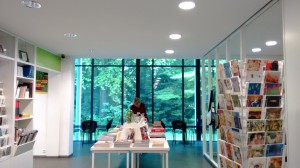 Ernst Barlach Haus, Jenischpark, Baron-Voght-Straße 50a, D-22609 Hamburg, Germany
http://ernst-barlach-haus.de/Englisch/Ernst_Barlach_Haus_Museum/Ernst_Barlach_Haus_Museum.html