It was an unexpected and lucky coincidence: two photograph exhibitions opened at the same time in Barcelona, both showing the work of two north American artists who photographed New York, Chicago and other cities exactly on the same years.
The coincidences, nevertheless, stop there. Besides the obvious differences of spaces, display and set-up, visitors' policies, etc. corresponding to each of the organisers, what truly made both exhibitions enlightening -especially if not just seen independently but united as if it was a two-part exhibition- was to experience the two absolutely differing approaches each photographer had towards their art, their objects, their relation with people and cities, their role as an observer, what they tried to communicate… and so on.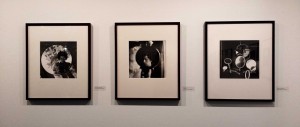 Vivian Maier's exhibition at Foto Colectània was perfectly presented, as all expositions Foto Colectània organises. The exhibition stimulates on the visitor the exact intimate glance Maier took, as the observer that no one notices that actually is there. You feel somehow as a voyeur of situations and people who didn't realise that are been captured on a photo, and remaining forever. Maier wasn't a professional photographer and, for decades, just enjoyed taking pictures of what she saw, as a way of conserving her memories and whatever captured her interest. She possessed only a couple of cameras on her life and had limited technical knowledge and support. She never "stole" an image, but didn't, as well, prepare them nor asked for the agreement of the ones appearing. She made lots of pictures of her reflections in mirrors, windows, etc. that were as personal as the photographs of other people on the street or staring at the park, or of objects and situations that she found interesting as they were.
Fundació Mapfre surveys more than 50 years of Bruce Davidson's work in a hard-hitting exhibition. Davidson is a professional photographer from the very beginning of his career. Moreover, he considers himself a "humanist photographer" due to the relationship he has with reality as a lifestyle. Translated to his work, this means his photographs reveal his perception of reality as the result of an interaction between the world and himself as a photographer. He not only asks consent for the pictures, he stablishes a relationship with his models, objects and places. How else could he expose what is deeply going on inside his models, or on the streets, or motivating their actions? Although the subjects he has captured throughout his life vary a lot, as the techniques and processes chosen also do, there is a coherence on his approach and his selection of vulnerable or even marginal people and environment. Davidson manages to show, in one shot, people and moments that tell a whole story. That is what he wants, and that is why he not only asks for permission, but looks after involving himself on what he is actually shooting.
Foto Colectània, Julián Romea 6, 08006 Barcelona  http://www.colectania.es/index.php?i=1&p=2
Fundació Mapfre, C/ Diputació, 250, 08007 Barcelona http://exposiciones.fundacionmapfre.org/exposiciones/es/brucedavidson/exposicion/