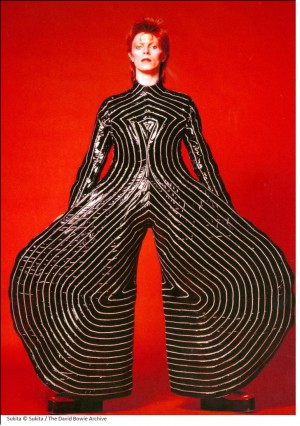 I went to Berlin for a couple of days this week and I really wanted to visit the David Bowie's exhibition that I have read so much about. On the one hand, I was curious of how an exhibition of a living man can be set up… with which kind of pieces and elements, touring script and approach can something like that be exposed. On the other hand, I wanted to be sure if it could achieve to transmit the real essence of what this artist had done, how far in different art expressions he has gone, how he really always three steps ahead of everybody else was. Could the curators of the Victoria and Albert Museum, Victoria Broackes and Geoffrey Marsh, not fall short in their ambitious attempt?
My answer is yes. They have done an impressive job here, I am amazed. The exhibition was truly a whole experience into Bowie's inspiration and creative process. Based on 360 pieces of the widest range of types, each of them was used as an excuse to explain how it worked on his personality and creativity from different edges. From the beginning you start a personal experience because everybody receives an audio guide, that turns out to be a musical guide through the tour, with some interviews, all coordinated with the hall you were standing in… even with the exact part of the hall! It was difficult to make comments with your friends, as it was intended to be a personal experience.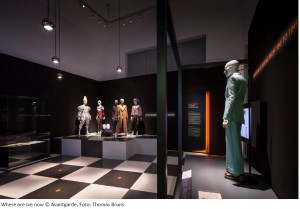 The tour was chronological, but all along the halls it touched all possible details in Bowie's life that were important, influencing or decisive. As said before, each piece was a sort of excuse to explain that specific aspect in detail, what is a great idea when you have a lot of content to offer. For example, the books he read when he was young. You could see a couple of his favorite books and through that learn about his childhood, his interests, his opinions, his preferences, his aesthetic concept of different characters, even how to build characters, colors and atmospheres, and so on. The exhibit labels and written panels gave complete and detailed information, all in German and English. At the end of the exhibition you are capable of dimension how wide his influences are and how he puts them together. This means, the mission is accomplished!!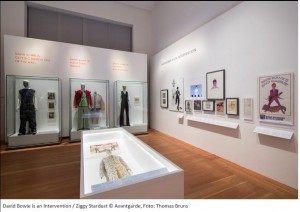 I have to admit that this is probably one of the most expensive exhibitions I have seen, when talking about the setting up. But despite that, the result could have been poor if it was not well thought and designed. You may use the best illumination, media support, panels, sound, effects, everything, even having the best possible exhibits, and not offer a good exhibition. Here there must have been months and months of thinking and re-thinking, to have every detail ready for satisfying all the great expectations that the public may have.
I missed only one thing. You have to know and probably like Bowie to understand and enjoy the experience. I think it would have been interesting if this exhibition could be an excuse to talk also about moments in time and how they change. For example, Bowie succeeded in using the new technologies (color TV, music videos, live TV broadcasts, internet and music free downloading, for example) to support his work, and not only had an influence over other artists, designers, etc., but also in how someone can manage their public image though time, what speaks about a time. And if you speak of a time you may attract a wider public.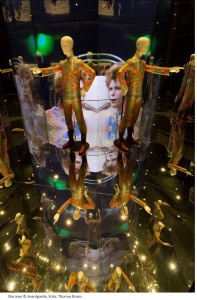 I am sorry I cannot add some personal photos here, and all the images are the ones available for press purposes… it is forbidden to take any pictures in the exhibition, as the many attendants told me. I absolutely disagree with this policy. In art exhibitions the flashes can damage some paintings and pigments, or in some exhibitions with archaeological exhibits some materials can be damaged with the light, and it is obvious that pictures with flash must be forbidden. But was it here necessary? Absolutely not. All of us have seen thousands of pictures of Bowie, of his clothes, of his albums. Maybe there would be fewer visitors if they can see photos of other people instead of visiting the exhibition by themselves? of course not! Where they worried that someone may copy their museographical ideas? No! It is as easy as going there and pay for the entrance. Every museum can have their own policies, but having some pictures in your phone and even show them cannot threaten the exhibition itself. You may see photos of all the sections, and still be surprised when visiting the exhibition.
Before ending, I have to mention that the audience management is well organized. Despite the long queues, it flowed fine without losing hours. You may also by the tickets in advance through the webs.
[embedyt]http://www.youtube.com/watch?v=7FPUwUeE2LE[/embedyt]
http://www.youtube.com/watch?v=G5klu32eAEs
Martin-Gropius-Bau Berlin, Niederkirchnerstraße 7,  Berlin. http://www.davidbowie-berlin.de/en/