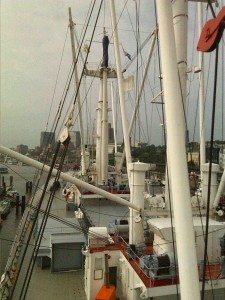 Hamburg has the third port of Europe (in terms of activity) and the 15th largest of the world. As a famous maritime city, it is possible to find a lot of cultural and tourist attractions related to its port. There are museums, walking and sailing tours, colourful neighborhoods, festivals, celebrations, souvenirs, etc. etc., and you can also visit some ships and a submarine.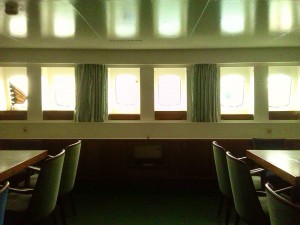 Cap San Diego was built on 1961 as one of six beautiful cargo ships constructed before the "container era". It transported goods between Germany and different ports in South America, as well as a couple of rich passengers that helped financing the trips by paying a high price – price that ensured comfort and really luxurious cabins, facilities and meals. Although it is not a historical ship as others you may visit in Hamburg, it is beautiful, interesting and old enough to deserve the honor of being a museum itself.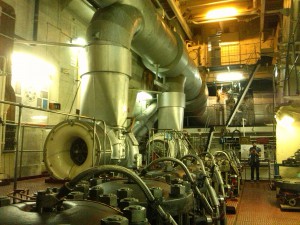 The Cap San Diego has different usages: you can visit it as a museum, walking through everywhere from the bridge to the engine, including the sailors and passengers cabins, the pool, the laundry, the cargo spaces where temporary exhibitions are presented, etc.; you can stay there overnight, as part of it is a hotel and restaurant; or you can take a trip the couple of times a year it sails.
I visited it as a museum and had a great time. I am not used to ships or sailing, in fact I have poor experience with the maritime world. Nevertheless, I think Cap San Diego is fascinating and I enjoyed it a lot. There are complete and interesting old fashioned exhibit labels and explanations of the rooms and some technical instruments all around, which were unfortunately mainly in German. Only a few were in German and English, something that I see as an opportunity: they should prepare modern labels and panels in at least two languages. It may not be expensive; it is really easy to be creative on the way to present texts… you may even print in just one colour!! And, to profit the effort, maybe some panels explaining a general overview of life on board would be appreciated.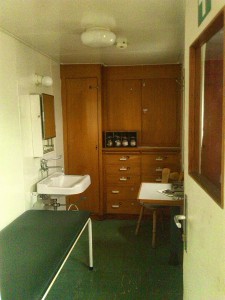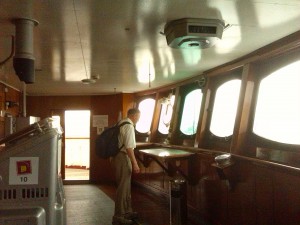 I was very surprised to see a small, humble photographs exhibition on a corridor. I love to discover such tokens of openness towards cooperation, without making a big deal out of it: the direction of Cap San Diego agreed to hang some photographs taken by two students on a trip to the north. Beautiful pictures of ports, rivers, seasides, with a small explanation printed probably at home. So simple, so sweet. This flexibility is something that public museums should learn from private institutions!!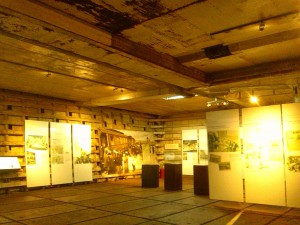 The temporary exhibition reminded me of the Ballinstadt Museum (also in Hamburg), but in short. It offers information about the big emigrations from Europe to America that departed from Hamburg. It contains photographs, drawings and texts printed on big panels. Again, very simple and cheap but successful at the same time: perfectly done, it catches your attention and, after the visit, you do have a global idea.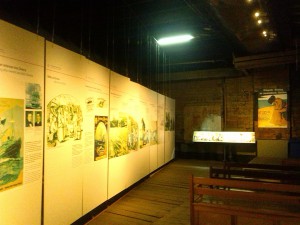 Cap San Diego confirms that it is worthwhile to think and rethink how to build an exhibition, to have someone really taking care, than just relying on expensive museographical elements. A big budget doesn't substitute a good idea.
There are audio guides available in German. You may share the audio guide, as you can switch two pair of headphones on it, very kind!
Museumsschiff Cap San Diego, Überseebrücke, 20459 Hamburg http://www.capsandiego.de/