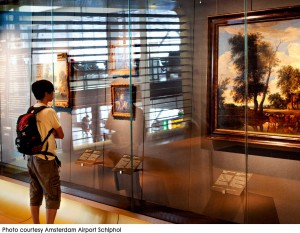 Art exhibitions at airports are an excellent idea that only a few airports have realized. Whether they are the result of a partnership with an external museum or the work of an internal department -or even museum- belonging to the airport, they are unfortunately rare to see.
The facts are:
Waiting at the airport can be very boring, especially if you have a long connection or a delayed flight.
The airport is the first, last or only contact (and thus impression) a person has with a city.
Everyday more people take flights, who are potential exhibition's visitors.
Many airports are growing and becoming a sort of small city, offering everyday more facilities, improving the passenger's experience… but also grow standardised and lack of personality or relation with the city where they are based.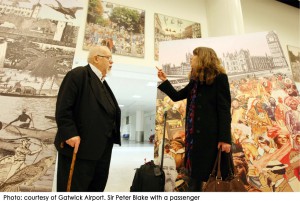 Nowadays it is USA who leads the incorporation of exhibitions at airports. Nine airports have either museums or big exhibitions, and a lot of others hold smaller projects. The pioneer is the SFOM in San Francisco, museum that started back on 1980, and has continuously grown and consists, today, of 20 galleries in the different airport's terminals (see http://www.flysfo.com/museum). There is also some research and documentation in the USA, done by professionals either from the art exhibition's sector as well as from specialists in big facilities, airports and management of people's flow.
Outside USA, there are some interesting initiatives held by airports of all sizes, but represent more an exception rather than a normal habit. Remarkable are partnerships like the one between the Rijksmuseum and Schipol in Amsterdam or the Rodin Museum and Charles de Gaulle Airport in Paris. There are also projects organised directly by internal teams that are adapted to the airport's possibilities, like Gatwick's exhibitions of local artists, or small and humble displays like the ones organised in just a couple of square meters at the Menorca airport.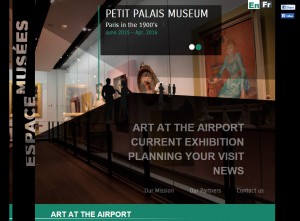 Art exhibitions at airports are considered successful and valued by the passengers, as the organisers evaluate. Nevertheless, they are still only a few isolated examples. Obviously, in USA you may find more art projects at airports due to the ordinances many cities have, which require 1 or 2% of the construction budget of public buildings to be spent on art initiatives. Though I disagree with forceful actions, at least the consequence is the availability of positive examples of the impact that the display of art exhibitions at airports have.
The potential is enormous and everybody has something to win. Artists, curators and professionals of the art area may find new fields for creation, investigation and, of course, big challenges to beat. Airports may win as well: from better and differentiated image to attractiveness and, why not, the preference of the passengers with respect to other airports (which may be really profitable, for example, for airports that are looking after becoming hubs). The city where the airport is located can also earn attractiveness and a better positioning in relation with others and, why not, a more dynamic art scene. Last but not least, the passengers win. Their experience at the airport is richer and may also be unforgettable. Many passengers may not even visit museums, and this can be a unique opportunity for them.