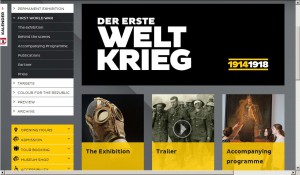 I was very curious about how an exhibition over a big war can be conceived, without hurting anyone's feelings. Too many countries participated in this war, too many people died in this first modern war (with modern weapons that could kill and damage on a larger scale). It is a delicate theme and, at the same time, there is a lot to be said. There are tons of information, a wide range of aspects, different points of view… and the Deutsches Historisches Museum is a world famous institution that cannot offer a poor project.
Before visiting the Museum I read a lot about this exhibition, press articles in English and German. In general, the public seemed to be satisfied with the contents and the installations, but some complaints referred to the lack of certain sections of enough and objective information. This seems obvious to me, it is impossible to make such an exhibition with all the information and keeping every party satisfied!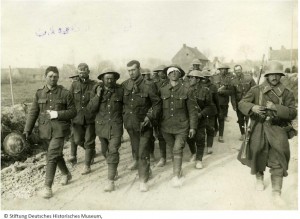 Before describing the elements and the results gotten, I have to say that unfortunately, again, it is not allowed to take pictures in the exhibition. On the one hand, this article is going to be boring and I hope I can make a good description of what I want to point out. On the other hand, publishing some pictures can never damage the reputation of the exhibition nor decrease the number of visitors. I really don't understand this policy in this case. Nevertheless, there are some pictures available for press purposes on the website, which I include here.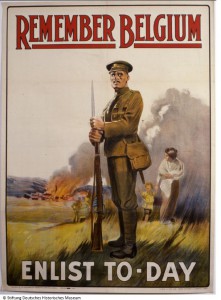 The installation uses lots of colours and good illumination in order to avoid sad atmospheres or trying to smooth the messages and contents. The use of different materials and media support, including a huge amount of official and civilian pictures, allows having a deep explanation in every section with a perfect usage of the space. Since this was the first war to use modern technologies for propaganda purposes, there is a lot of interesting material available. Also, many civilians and soldiers owned cameras and, although at that moment some of their pictures were banned due to the horrifying scenes that counteracted over the population, some of these pictures are exhibited. The same happens with sound records, press cuttings, films, and so on.
The tour is divided in three main parts, each of them divided into thematic sections. The first part is chronological, the second is geographical, and the third refers to specific aspects of the war (for example economic war, air war, naval war, life at the front, famine, medicine and health, etc.). At the beginning of each small section is a "signpost" that offers general information about the theme of this subdivision. Regrettably, the signposts are situated at your left side as you enter, so you see and read it after visiting the section. Only after two or three times the visitors may realize that the posts, which are at their opposite side, are supposed to be read before going in.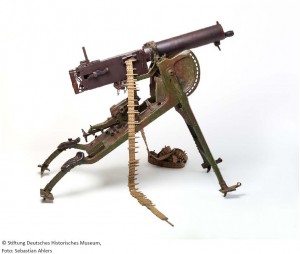 The exhibit labels explain a general concept, which is exemplified with some objects and other pieces, to give a better idea and without pretending to be exhaustive. I think, though, that these objects were carefully chosen by Mr. Andreas Mix, the curator, and his team, as they are very representative and effectively achieve to give the desired message to the visitor.
There is a broad program of activities supporting the exhibition: panel discussions, lectures, films and guided tours. Of course, there are audio guides available in different languages.
Deutsches Historisches Museum, Unter den Linden 2, Berlin
http://www.dhm.de/en/ausstellungen/archive/2014/first-world-war/the-exhibition.html